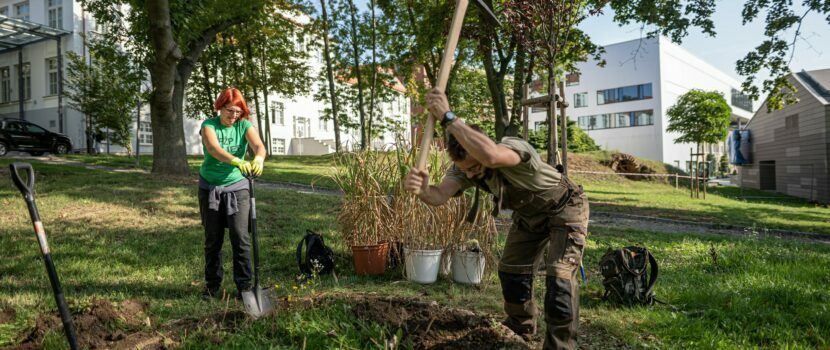 The Platform for green and blue infrastructure connects science with praxis
The Platform for green and blue infrastructure connects science with praxis
The scientists from UJEP are connecting mentioned platforms with the application sphere, autonomous and state administration, with a goal of finding the reasonable solutions to climate change impacts.
Why? We encounter these impacts on a daily basis, and it starts to get more frequent even in our everyday lives. It is about time, that we start doing something productive by using the knowledge of our researchers in a praxis, instead of just listing their ideas into documents.
Only if people throughout the scientific sphere meet up and cooperate, we see the real activity and real hope for a better life in our region.
The scientists discussed possibilities of various citizen activities and their meaningfulness with a city and region representatives (and some company representatives). The main topic: how to efficiently communicate about the needs and benefits of city ecosystems, but also how to use open data platforms for the improvement of care of the city ecosystem.
And what about me?
What can YOU possibly do to change the impacts of climate change or at the very least, help with the preparation so the change is possible (and yes, this was also discussed by our scientists from IEEP as a part of an application programme of AV ČR)? That includes everyone and it does not matter whether you are a scientist or shopkeeper.
You can plant a tree, for example. Planting trees is a trend nowadays, like hardening your body in a cold water (Wim Hof method). This trend is, however, a bit problematic. The trees can sometimes interfere with a city infrastructure. Let's not just forget about existing forests or riverbanks, where you can plant more trees as well. That helps too!
Just pick a spot anywhere in nature, that you like and visit often and take care of it. Clean this place up, water it, create an anti-pollution warning sign, invite your friends and colleagues/employees to this initiative, make an arrangement with city officials so you can restore a specific place, that once existed in the past, but vanished – possibilities are limitless.
Use vermicomposters. Yes, we have them here in Ústí nad Labem as well – check this map to see their location. You can also create a community garden. We have two of them, which is not enough for a regional capital. Thanks to the city's official support, this number will grow.
If you happen to know any influential person, you can try to convince her/him, to change some brownfield into a beautiful meadow or pond. We are also doing our best to improve our campus. All those regulations and limitations will not make us abandon this effort.
Next time you go from the train station or from the museum up the hill to the university, take a look at this majestic tree (CELTIS OCCIDENTALIS). It has been there ever since 1886. Let's hope, that it lasts many more years and our city gets greener!