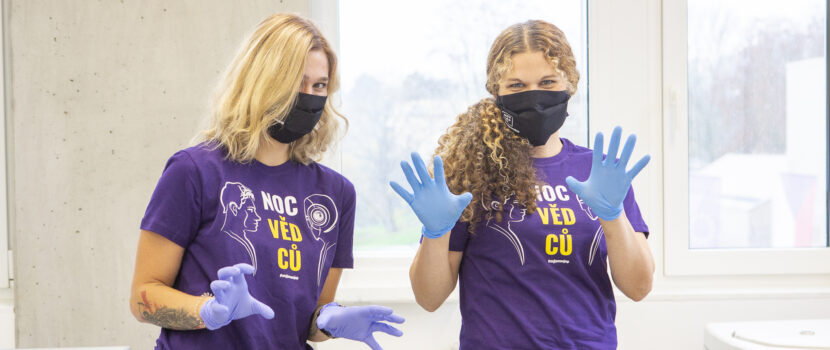 Researchers' Night at UJEP again in September
Researchers' Night at UJEP again in September
Make sure to visit UJEP's campus on the 24th of September at 5pm. We are organizing yet another wonderful Researchers' Night that you do not want to miss (especially after that long wait)!
We are happy to announce that we are able to meet face-to-face with an important and interesting scientific topic again. Also, we cannot wait to show you the colourful and explosive experiments illuminating the path to greater knowledge. All of that can be seen in the bright new building of the Centre for Natural Sciences and Technologies UJEP (CPTO) which can be found at the address "Pasteurova 15".
The most modern building inside our campus, in which two of our faculties are housed (Faculty of Science and Faculty of Environment), will offer all of its eight floors to this celebration of science, research, art, and education. The building will open up for visitors from the ground floor all the way up to the root itself and will offer various experiences in the shape of chemical and physics experiments, and workshops for both children and adults. Researchers' Night Science also offers its visitors a unique chance to see the inside of our laboratories, to see various scientific methods and instruments, commented observations, discussions with scientists, exhibitions, contests, thrilling quests and surprising performances – all of that connected to this year's main topic for the whole Czech Republic, which will be TIME.
You will not be missing the traditional lecture marathon either. The marathon will be orchestrated by our academic staff in our lecture rooms on the ground floor of the CPTO. You can also sit and relax under the sky in our amphitheatre in the heart of our campus, where movies will be projected. Our beautiful canteen will change into a small theatre and you will be able to see the performance of stand-up comics, that will try to make a little bit of fun of an otherwise serious topic of TIME.
The whole Researchers' Night will be accompanied by the music and light show of our artists from the Faculty of Art and Design UJEP.
Part of the programme will take place in the detached UJEP workplace, which includes thhttps://fud.ujep.cz/e technical laboratories of the Faculty of Mechanical Engineering UJEP and the Department of Biology of the Faculty of Science UJEP at the Centre for Biological and Environmental Programmes. You can find it at the address "Za Válcovnou 1000/8". Especially those interested in plants will be really pleased, because it will be possible to take a look into the various greenhouses full of foreign plant species. Besides that, you will be able to take a look at our Phytotron, which is used to research "immortal" plants.
 "We have prepared the digital part of the programme this year as well. You can expect to see a variety of videos that are thematically related to the main topic of TIME and how we approach it at our university. These videos can be found on our YouTube channel, "says the head of the Marketing and Promotion Department of UJEP, Ing. Ondřej Kounovský.
The exact programme of the Researchers' Night UJEP will be gradually published in our section on the nationwide Researchers' Night website. For more information, make sure to follow our social media – Facebook and Instagram UJEP.
Make sure to arrive on time. We are looking forward to seeing you!