We celebrate 30 years of our existence!
We celebrate 30 years of our existence!
The University of Jan Evangelista Purkyně celebrates its 30th birthday. Our roots go all the way down to the year 1954, when Higher Teacher Training College was established. After five years, it was transformed to the Pedagogical Institute, which was renamed to the Faculty of Education in the year 1964. We opened our gates as the University of Jan Evangelista Purkyně 28th of September, 1991. The university consisted of the Faculty of Education, the Faculty of Social and Economic Studies, the Faculty of the Environment, and the Institute of Slavonic & Germanic Studies.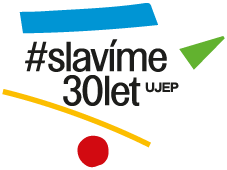 Come, join us and let's all celebrate this anniversary together!
Dear employees, students and graduates, this year belongs to all of you! It will be full of video-stories, podcasts, texts and photography.
We hope to see you at the candle blowing at our birthday cake. Put Thursday, September 30, 2021 in your diary as we'll be expecting you on our campus to kick things off! You can look forward to the MC, Endru, guiding you through the whole celebration and not missing a single musical performance. Public Fusion, Houpací koně and Lake Malawi will take to the stage throughout the evening. DJ Hrusha will be rocking it at the after party and we hope you'll join him!
Program
UJEP CHILL OUT ZONE (accompanying programme)
10:00 – 21:00 Chill-out zone, competitions, quizzes
11:00 – 13:00 Outdoor amphitheatre – ICUK Lunch MEET stories
OUTDOOR PROGRAMME IN FRONT OF THE CPTO BUILDING – hosted by Endru
16:00 – 17:00    Public Fusion
17:30 – 18:30    Houpací koně
19:00 – 20:00   Concert by Endru
21:00 – 22:00   Lake Malawi
MENZA
22:00 – 24:00 After party DJ Hrusha
There will be a little sweet surprise for everyone who goes to the Menza for lunch on 29 September.
Story of UJEP
For 30 years, we have been educating, inspiring and leaving a mark in our region.
This is only possible thanks to the people from our university. Some of them are introduced within the Story of UJEP (at this point, all the stories are in the Czech language only). These stories are made specifically to celebrate our anniversary. You can read them, listen to them, or see them in a form of videos and photographs.
We want you to meet these real people – scientists, artists, sportsmen and graduates, who you can meet in our campus on a daily basis. We want you to know their stories and who these people are, because that helps you to create the overall image of UJEP.
Podcasts UJEP
Thanks to our well-known project U21, which is co-financed by the European Union, a new university podcast studio was founded. We intend to use it to spread the information in a popular form among all the people occupying the halls of our university and beyond.
We are planning to conduct various interviews, talks and also to spread the word of travel possibilities for students and employees, such as ERASMUS + programme. It gives us a unique opportunity to show even more new faces and discover new stories.
Spotify and SoundCloud.
Illustrations made by Patrik Antczak
The unique illustrations were created to celebrate the anniversary by a graduate of the Faculty of Art and Design, Patrick Antczak.
Each creation is based on a story and in this specific case, on various stories of people. These people work here, study here or have already graduated in the past and they continue to live their lives elsewhere. Everyone is different, but they all have one thing in common – UJEP.
MgA. PATRIK ANTCZAK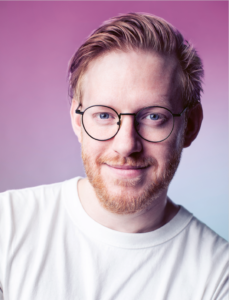 He is a graduate of the Faculty of Art and Design. Patrik
works as an illustrator and a graphic designer. He was awarded
a series of various prices for his ALFABETA set (2016) and
got nominated for a Czech Grand Design price in a category
of the Illustrator of the year (2019) for his illustrations
in the book called Left and Right (Emmemm Publishing).
He is interested in projects with the educational and
interactive overlap. He tries to help children see the beauty
of the paper and work connected with it during workshops, that
he organizes. He lives in Prague and he comes to the city
of Ústí to paint his grand murals.
Visual style designed by Jáchym Moravec
Jáchym designed the visual style for the 30 years of UJEP celebrations together with Patrik Antczak. It is him and the department of marketing who are behind the whole marketing communication of our university, which we presented to you in our #MYJSMEUJEP (#WEAREUJEP) publication. Jáchym has been working as the university's graphic designer for a long time.
BcA. Jáchym Moravec
He graduated from the Faculty of Art and Design, atelier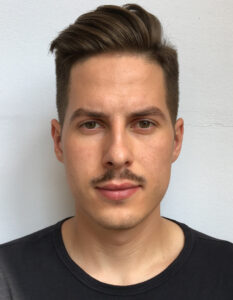 of Graphic Design number 2. He creates brands, 3D computer
graphic and graphic design. For his project called
"vlajka.online" (an on-line flag), he was awarded the first
place in the Best in Design 2021 competition. Jáchym was
also nominated for the National price for a student design
(more than once) and he is interested in both commercial
and cultural projects). Recently, he moved to Prague from
Ústí and established a graphic studio on Žižkov with his
friends. He currently studies at UMPRUM and likes to return
to the České středohoří (Central Bohemian Highland).
Graphics for this occasion